Hi all!
Yaaaaay! I'm so excited! As of August 6th 2015, my latest exam prep product ITIL 2011 Foundation Exam LiveLessons is available now via Pearson IT Certification and also over at Safari Books Online.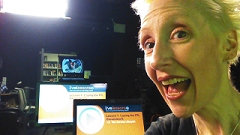 I had a BLAST recording these videos this past April at Pearson's gorgeous studio in San Francisco. I got to work with Pete Vilotti (Pearson's waycool camera guy) in the studio that week, and I even got to meet his equally-cool wife, Christie. My beau Matt came with me to San Francisco, and the four of us even hung out one night after work, too. So not only was it a successful work week, we made some super-cool new friends. You can't beat that.
Just like my last ITIL V3 Video Mentor product, I'm obligated to tell you that this LiveLessons video series isn't meant to replace classroom learning or your 25 hours of self-study… it's only meant to complement and supplement it. But it does focus on the most popular exam topics so you'll be sure to get the extra reinforcement where you need it! (But between you and me, I get 2-3 emails per week from students telling me that they simply watched the videos and purchased the downloadable workbook and study guide and passed with flying colors. See some of those comments below.)
The downloadables (get them here) have been available since October and have been getting rave reviews. Here are just a few.
I really enjoyed your videos but taking so many screenshots was too much. I purchased your workbook and it saved me so much time, but also provided so much more information and I have a much clearer picture. Thanks to you! –Rohit P.

Thank you for making that 6page exam-cram guide. It is worth every penny like you said!!!! I passed my exam with a 90% thanks to you! — Steve D.

Jill you are a wonderful instructor and a gifted writer. i thank you very much for the workbook. i bought the color version (my eyes aren't what they used to be lol) and it was worth the extra money. the tabs are helpful and the two sample exams are also very nice to have. i took my exam on November 14th via webcam and got 37 out of 40! i wish i knew for sure what three i got wrong, but i think i know. thank you again Jill. — Dorinda B.

The workbook / manual made it feel like I was in the classroom with you. I could follow along very easily, all of the slides matched perfectly, and It was very good to have all of the notes and explanations underneath the slides. I am not sure why the workbook isn't included in with the videos just like your old ITIL V3 was a book plus a dvd. [Jill adds: My publisher did not want to provide a book, even though I told them it was really important that you all have something to follow along with. When they told me I could create and sell my own, I did!] I am very happy with the videos and also with the workbook/manual. Thank you for creating it even though your publisher didn't want you too. You clearly had your student's best interests in mind and it shows. I'll let you know how I do on my exam in December! –Craig V.