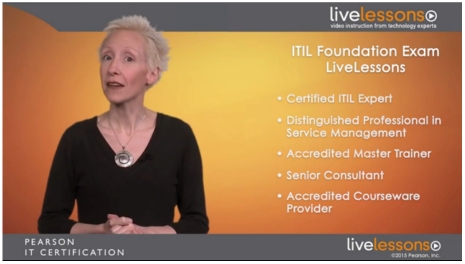 Ladies and gentlemen, my newest ITIL training product, ITIL 2011 Foundation Exam LiveLessons is now available at Pearson IT Certification and on Safari Books Online. I'm beyond excited! I worked very hard to create a product that explains the ITIL Foundation material in an accessible, interesting, and (dare I say) FUN way. I had a blast recording these videos at Pearson's way-cool studios in San Francisco in April 2015. (Hi, Pete!)
This video product contains over 16 hours of streaming lessons which explain the most popular ITIL Foundation exam topics, in an easy to understand and engaging way.
I designed these videos for people who took the self-study route and wanted some clarification and reinforcement of ITIL exam topics from an actual person, or for people who attended classroom training and wanted additional examples.
If you bought my previous (now outdated!) VideoMentor product from 2009 called (ITIL V3 Foundation Exam Video Mentor), you'll remember that it was a combo book + DVD set, but this new ITIL Foundation LiveLessons product is consists of videos ONLY. I encourage you to consider using some of the supplemental goodies I have for you below.
FREE ITEMS FOR DOWNLOAD:
PSST! LOOKING FOR A COMPANION WORKBOOK OR STUDY GUIDE FOR THESE VIDEOS?
Contact me directly (materials at knapp-it.com), and we can talk about how to get you a licensed ITIL Foundation workbook and/or a study guide, just like my ITIL Foundation classroom students get.
Thank you so much for your support, patience, and kind words. I worked so hard to create these videos for you and am beyond excited they're finally available.
WONDERING HOW TO TAKE YOUR ITIL FOUNDATION EXAM?
Head on over to PeopleCert.org, and you can take the exam online– it's a great service, and you get your exam results right away! Click here, and make sure you're choosing "ITIL(R) FOUNDATION" and not ITIL 4 Foundation!
Speaking of ITIL 4, I hope to be releasing ITIL 4 videos in 2020. Stay tuned!
So– go get 'em, Champ! And best of luck on your ITIL journey!
Jill