IMPORTANT: As of 2022, This "ITIL Foundation LiveLessons" video suite is outdated; it will not help you pass the latest ITIL Foundation exams. My videos are for the prior version of ITIL (ITIL V3/2011), but that version of ITIL has reached end of life. The current version of ITIL is called ITIL 4, and I do not have a video product for ITIL 4.
You may certainly use those videos to learn more about the prior version of ITIL (it's still very practical information), but the videos will not help you pass the official certification exam.
---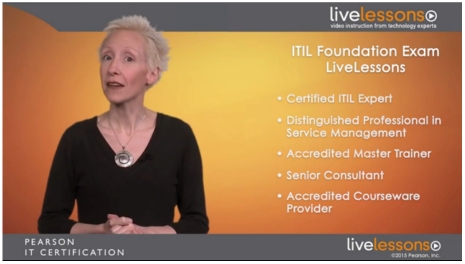 APRIL, 2016: Folks, I'm excited to announce that my newest ITIL training product, ITIL 2011 Foundation Exam LiveLessons is now available at Pearson IT Certification and on Safari Books Online. I'm beyond excited! I worked very hard to create a product that explains the ITIL Foundation material in an accessible, interesting, and (dare I say) FUN way. I had a blast recording these videos at Pearson's way-cool studios in San Francisco in April 2015. (Hi, Pete!)
This video product contains over 16 hours of streaming lessons which explain the most popular ITIL Foundation exam topics, in an easy to understand and engaging way.
The closest you can get to having me in the classroom teaching you live and in-person is the one-two punch of watching these videos and using the accompanying workbook (sold separately). These videos capture my training schpiel as if I was in a classroom (whiteboards and all!), and the workbook sold below is almost the same exact one my students get in my classes… over 400 pages of ITIL goodness, containing all of the presentation slides (plus lots of bonus slides to cover the new 2016 material!), copious notes under each slide giving even more information than what's said in the videos, plus two full sample exams, and still even more sample questions peppered throughout the material. You'll have so much practice taking the exam questions, learning how to pick them apart and jump to the correct answer. I want you to pass your exam, and I give you the tools you need to knock it out of the park!
I designed these videos for people who took the self-study route and wanted some clarification and reinforcement of ITIL exam topics from an actual person, or for people who attended classroom training and wanted additional examples.
If you bought my previous (now outdated!) VideoMentor product from 2009 called (ITIL V3 Foundation Exam Video Mentor), you'll remember that it was a combo book + DVD set, but this new ITIL Foundation LiveLessons product is consists of videos ONLY. Although these LiveLessons videos give you everything you need, they do require you to take notes by hand (or even take screen shots), which can be annoying for some folks. So I invite you to consider using some of the optional, supplemental material below, in addition to watching the videos. Some are for purchase, and there are some freebies too.
FREE ITEMS FOR DOWNLOAD:
ITEMS FOR PURCHASE (printed and shipped to you… or licensed and emailed to you as a PDF):
The 450+ Page Student Workbook, containing all LiveLessons presentation slides, detailed notes under each slide, two official sample exams (which include answers, answer rationales, as well as a table showing the workbook pages each sample question was addressed), the official ITIL glossary and acronym list, plus additional downloadable resources and bonus material not found in the video! It comes in three flavors:

A black-and-white printed workbook, shipped to you (89.99 USD + shipping) [Click here to purchase]
The full-color printed workbook shipped to you ($179.99 USD + shipping) [Click here to purchase] (I'm sorry it's so expensive; I have no idea why color printing costs so darn much)
An electronic (PDF) full-color version of the workbook emailed to you ($59.99) [To purchase a PDF version,Send us an email at materials at knapp-it.com and tell us what you'd like to purchase. Within one business day we'll send you a secure invoice for you to pay online. Once it's paid, we'll send you a link for you to download your licensed copy.]
An ITIL Study Guide which essentially condenses every exam topic to a single bullet point each. We have two versions which both contain the same exact information, but just in slightly different formats depending on what's easiest for your eyeballs:

Click here to purchase a printed copy of the Six-Page Edition of the Study Guide (Six Lessons, Six Pages). ($20.00 USD + shipping)
Click here to purchase a printed copy of the TEN-Page Edition of the study guide, which has the same exact information as the six-page study guide above, it's just printed a bit bigger so it's easier on your eyes. (Six Lessons, Ten Pages). ($20.00 USD + shipping)
Prefer an electronic (PDF) version of one of the study guides? Save on shipping time and expense! Send us an email at materials at knapp-it.com and we'll send you a secure invoice for you to pay. Once it's paid, we'll send you a link for you to download your licensed copy ($20.00, no shipping).
(Please note: If you're emailing me seeking electronic copies of either the workbook or study guide, please be patient! It may be a full business day before I can reply, but don't worry, I'll get to you as soon as I can!)
I hope these items are helpful for you!
Thank you so much for your support, patience, and kind words. I worked so hard to create these products for you and am beyond excited they're finally available to you. When you consider that most ITIL Foundation courses cost upwards of $2000/student, you're getting quite the bargain by purchasing the videos plus a workbook and a Study Guide. Those three things together give you everything my classroom students get when they book an in-person class with me… except this way, you have the luxury of working at your own pace. Fantastic!
So– go get 'em, Champ! And best of luck on your ITIL journey!
Jill
---
My materials have been getting rave reviews. Here are just a few of the great comments I've received… reprinted with permission, of course! (And feel free to add your own comments below!)
Jill, I really enjoyed your videos but taking so many screenshots was too much. I purchased your workbook and it saved me so much time, but also provided so much more information and I have a much clearer picture. Thanks to you! –Rohit P.

Thank you for making that 6-page 'exam-cram' study guide!!! It is worth every penny like you said!!!! I passed my exam with a 90% thanks to you!!! — Steve D.

Jill you are a wonderful instructor and a gifted writer. i thank you very much for the workbook. I bought the color version (my eyes aren't what they used to be lol) and it was worth the extra money. the tabs are helpful and the two sample exams are also very nice to have. i took my exam on November 14th via webcam and got 37 out of 40! i wish i knew for sure what three i got wrong, but i think i know. thank you again Jill. — Dorinda B.

The workbook / manual made it feel like I was in the classroom with you. I could follow along very easily, all of the slides matched perfectly, and It was very good to have all of the notes and explanations underneath the slides. I am not sure why the workbook isn't included in with the videos just like your old ITIL V3 was a book plus a dvd. [Jill adds: My publisher did not want to provide a book, even though I told them it was really important that you all have something to follow along with. When they told me I could create and sell my own, I did!] I am very happy with the videos and also with the workbook/manual. Thank you for creating it even though your publisher didn't want you too. You clearly had your student's best interests in mind and it shows. I'll let you know how I do on my exam in December! –Craig V.