Hi all!
Yaaaaay! I'm so excited! As of August 6th 2015, my latest exam prep product ITIL 2011 Foundation Exam LiveLessons is available now via Pearson IT Certification and also over at Safari Books Online.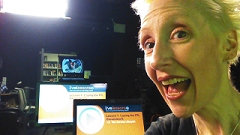 I had a BLAST recording these videos this past April at Pearson's gorgeous studio in San Francisco. I got to work with Pete Vilotti (Pearson's waycool camera guy) in the studio that week, and I even got to meet his equally-cool wife, Christie. My beau Matt came with me to San Francisco, and the four of us even hung out one night after work, too. So not only was it a successful work week, we made some super-cool new friends. You can't beat that.
Just like my last ITIL V3 Video Mentor product, this LiveLessons video series isn't meant to replace classroom learning or your 25 hours of self-study… it's only meant to complement and supplement it. But it does focus on the most popular exam topics so you'll be sure to get the extra reinforcement where you need it!
If you choose to check it out, I really hope you like the LiveLessons video series.